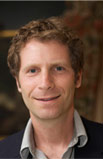 Dr. Nathaniel Frank is Senior Research Fellow at the Palm Center at the University of California, Santa Barbara, and an adjunct professor of history at New York University.
A historian with a doctorate from Brown University, he is perhaps the most widely published journalist on the military's current policy on gay troops. Dr. Frank twice broke the story of Army purges of gay Arabic translators in The New Republic.
His publications on gays in the military and other topics have also appeared in the New York Times, Washington Post, Los Angeles Times, Slate, Newsday, Philadelphia Inquirer, San Francisco Chronicle, Lingua Franca and In These Times.
He has been interviewed for national television and radio programs, including ABC's "Good Morning America," the "CBS Evening News with Dan Rather," NPR's "Talk of the Nation," "CBS News on Logo" and MSNBC's "Abrams Report." He has also consulted with ABC's "20/20" and CBS's "60 Minutes."
Dr. Frank's research and opinions have been cited on the Congressional floor, in syndicated columns, in the blogosphere, the New York Post, The Advocate, National Review Online, the AP, BBC and other venues, including college syllabi and media roundups. He lives in Brooklyn.
from your favorite retailer
includes links to Amazon & many other stores
–OR–
Buy yourself a book and have OUTWrite Books send a second copy to Congress for just 50% more