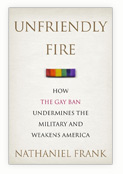 Unfriendly Fire, by Nathaniel Frank, is the definitive story of "don't ask, don't tell" written by the nation's most widely-recognized expert on the policy.
Drawing on decades of research on gay service and hundreds of exclusive interviews with policymakers, government officials, academics and service members, the book shows the cruel and unaffordable costs of the current gay ban.
from your favorite retailer
Buy yourself a book and have OUTWrite Books send a second copy to Congress for just 50% more
This book lays out clearly, fairly, dispassionately and accurately the terrible cost to our national security of this insane policy. It brings light not heat to the debate - and the light makes change seem not just necessary but urgent.
Andrew Sullivan, blogger at The Daily Dish and author, The Conservative Soul
Frank makes a compelling case not only that there has been a shift within our society, but that the time has come to look beyond our preconceptions and focus on capabilities.  This book should be mandatory reading for anyone with an interest in the state of our society or the readiness of our military.
General John Shalikashvili, former Chair, Joint Chiefs of Staff, U.S. Armed Forces
A sharp, vigorously framed analysis argued so discerningly, so substantively and so well. With agility and tough-mindedness, Mr. Frank brings hard evidence to bear on the gay ban's cost and consequences.
Janet Maslin, New York Times